Project Vote has developed a growing catalog of online tools and management systems to assist the nonprofit community in conducting efficient, effective civic participation and voter protection efforts.
These currently include:
VETS – a comprehensive data-entry and management system for field operations
Electionary – a free online-database of voting and election administration laws
MAPTRIX – a GIS visual targeting application for more strategic planning of field operations
Read below for more information on each of these tools, and contact Amy Busefink, Deputy Director of Project Vote, for more information on how these systems can help your organization.
VETS (Voter Engagement Tracking System) is an online and OS independent management tool, developed by Project Vote. VETS allows managers at any level—local, state and national—to track the production and quality of field programs, including voter registration, petition, GOTV, membership drives, and more. VETS will meet the needs of any size program, and can scale up as programs and organizations grow.
Project Vote has integrated into VETS the data-entry functionality previously provided by the Data Entry Consolidation Center (DECC). Users will have two options: after scanning the documents and uploading the scan into VETS, users can either: (1) manually enter application data from the scan directly into VETS, without touching the application, using an organization's staff; or, (2) rely on Project Vote's outside vendor to capture the data and return it to the organization. Organizations, regardless of data-capture preference, can benefit from VETS integration with VAN and Catalist.
Dynamic dashboards presented when users log in allow managers to understand their programs at a glance. Users can also create custom performance, quality, and data entry reports. These reports will allow an organization to drill down on program components such as collector, site, dates, and location. Users running multi-city or -state programs can produce aggregate custom reports. These reports allow managers at every level to make strategic and critical decision in near real time.
See a full list of services and options here.
Project Vote is committed to ensuring that VETS is customized to meet each organization's unique needs, and grows as organization's programs grow and change.
Electionary is a free, comprehensive online guide to state voting rights and election administration laws, researched and managed by Project Vote. It is available at www.electionary.info.
All information in Electionary is sourced and dated, allowing users to know when the information was last updated and to access the source itself. When voting starts for the 2016 general election, Electionary will have all 50 states as well as Puerto Rico and the District of Columbia.
Project Vote is also excited to partner with National Association of Latino Elected and Appointed Officials (NALEO) Education Fund, a national nonpartisan, nonprofit 501(c)(3) organization whose mission is to facilitate full Latino participation in the American political process, from citizenship to public service. NALEO is providing advice on the overall content and also making Electionary information available in Spanish for 9 states in 2016.
MAPTRIX is a GIS visual targeting application that organizations can use to locate where different unregistered populations live at the city, county or state level.
Project Vote uses Census ACS data to estimate the voting age population by census track, and aggregate voter file data to estimate the registered population. Project Vote can layer in "high-traffic site" information provided by VETS users in the field, to identify the best locations to send canvassers and volunteers.
MAPTRIX facilitates coordination of turf among organizations and identifies useful sites. In the future, MAPTRIX will present changes in the community resulting from field context programs, and will link site data to voter contact forms.
Most Recent / Relevant Items
Advanced Filters and Sorting
2 results returned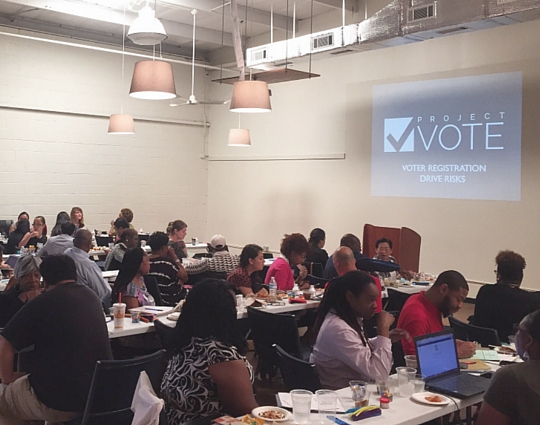 Voter registration is the first step every citizen must take before they can participate in the democratic process. There are... Read more
A list of services, options, and pricing for Project Vote's Voter Engagement Tracking System (VETS), a data-management and quality-control system for VR drives. Read more